lock forensics
A 4-post collection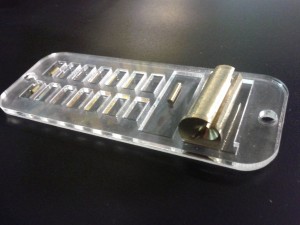 Hot off the presses!  Er, well, laser cutter!  We bring you the new pinning tray.  This tray is more portable than before.  The other one was small but the square shape often made it hard to fit into some carrying cases with your other tools.  This new design by Brian keeps the tray small but adds length to better go with the tools you normally carry.
And that's not all!  With this new design you can use the holes on the side and a lid to secure your pins for further storage.  By placing a lid on top and using some small screws you can fasten the lid down and store the pins for later use.  This is ideal if you are working on a progressive lock and need a place to store your the extra pins until you work your way up.  It can also be used to keep some extra security pins grouped together or  potentially for storing the pins from control locks used in lock forensics.
We are still testing out the design but once we finalize it we will have some available if anybody wants one.
Create your own Lock Picks!
The Lock Forensic group at Hive13 is having a class  to show you how to create your own high quality metal bogota style pick set.  The study of locks and lock picking is fascinating.  A bogota style lockpick has a backend that can also work like a tension wrench.  We will be making 2 of these style picks in the class.  The two stiles will be the half diamond and the hook.  If time permits we will have templates to make some more advanced designs (such as the actual bogota).  We will also have lots of test and progressive locks to test our your new lock picks on as well as a quick demo on how to picks locks if you haven't yet.
Proceeds from the class will goto buying equipment for the lock forensics lab.  Lock forensics is the science of analyzing a lock to determine if it has been picked, what tools were used and the skill of the attacker.  Hive13 holds the only known public group doing this research and welcome anybody to participate on the 2nd Thursday of every month.
Example of the type of picks you will be creating: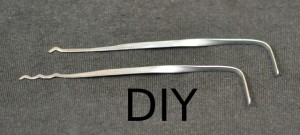 Sign up for the class today!
Class: Thursday November 17th, 6:30-8:30pm
Hive13 Lock Forensic Logo Contest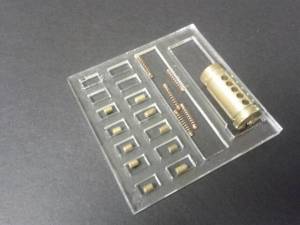 At the last Hive13 Lock Forensic Meetup (Aug 11th) we practiced and experimented with different techniques using bump keys as well as built our own custom pinning tray.  We have a LAB pinning mat but we feel that most of the space on that mat is wasted and unnecessary.  So we set out to make a cool plexiglass version that would be portable and get the job done equally as well.  The image on the right is the first pining tray off the laser cutter.  It is two sheets of plexiglass fused together (top and bottom) so the tray can be moved around.  We really liked the way it came out and decided we would give these out at the next Lock Forensic class we host (date to be determined still).  We also thought it would be great to put a logo on he backside of the bottom layer of plexiglass.  Then we realized we don't have a logo!
Being that the Hive13 Lock Forensic group is the first public lock forensic group in the country (maybe the world) we feel it is important that we have a logo.  And for the sake of setting an arbitrary deadline, the contest will end next Friday (Aug 19th).  The rules for the logo are simple.  We are looking for a black and white logo.  One that could easily be a vinyl sticker or etched into plexiglass or other tools.  The entries will be passed around the regular members of the lock forensics group and the winner will get a free pinning tray with their logo on it.
Meeting info: http://wiki.hive13.org/Lockpick
Contest submission email here: craig at hive13
Another Great Lock Workshop!
Schuyler Towne is coming back to Hive13!!  Last time when Schuyler came we had a fantastic class on lockpicking.  Schyler showed some great cut-aways on some very fancy locks and then gave the whole class locks to take apart and pick.  This time we are going to change it up a bit.  We are doing TWO topics!
Lock Forensics & The Great Lock Controversy of 1851
The Hive has been planning on kicking off a forensic workshop on lockpicking and what better way to do that than when Schuyler is in town 😀  Lock forensics is dedicated to the science and study of forensic locksmithing:
Determine method of entry
Identify tool marks and techniques
Determine skill level of attacker(s)
Preserve, collect, and protect evidence
Maintain a clean forensic workspace
Organize and write investigative reports
We have all this AND the story of 1851.  You don't want to miss this!
Date: Feb. 21st
Time: 6pm-10pm
Cost: Free and open to the public!
The schedule will probably be fairly relaxed.  At 6-ish we will start organizing for the forensic workshop and between 7-7:30 Schuyler will present The Great Lock Controversy of 1851.  Then we will hang out and geek out to locks.
UPDATE: Schuyler will also be stopping by Dayton Diode on Tuesday.  So if you live in Dayton or can't make Mondays meeting at the Hive then head to the Dayton Diode space: http://www.daytondiode.org/2011/02/lock-picking-101-workshop.html