lockpicking
A 2-post collection
Create your own Lock Picks!
The Lock Forensic group at Hive13 is having a class  to show you how to create your own high quality metal bogota style pick set.  The study of locks and lock picking is fascinating.  A bogota style lockpick has a backend that can also work like a tension wrench.  We will be making 2 of these style picks in the class.  The two stiles will be the half diamond and the hook.  If time permits we will have templates to make some more advanced designs (such as the actual bogota).  We will also have lots of test and progressive locks to test our your new lock picks on as well as a quick demo on how to picks locks if you haven't yet.
Proceeds from the class will goto buying equipment for the lock forensics lab.  Lock forensics is the science of analyzing a lock to determine if it has been picked, what tools were used and the skill of the attacker.  Hive13 holds the only known public group doing this research and welcome anybody to participate on the 2nd Thursday of every month.
Example of the type of picks you will be creating: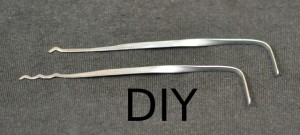 Sign up for the class today!
Class: Thursday November 17th, 6:30-8:30pm
Hive13 Locksport Workshop

Come join us as we start up our (hopefully) regular Locksport workshops.  Locksport is competitive lockpicking.  From the Locksport International website:
"Locksport features a need for knowledge and understanding of how the things around us work.  When you consider a lock mechanism, you will need snap judgment when considering the lock's difficulty, the best tool, and the most viable approach. When it comes time to explore the innerworkings of the mechanism, it is only the slightest of touches and the most deft moves that will guide you."
As a special honor we will have Schuyler Towne of Open Locksport fame kick off our first Locksport workshop!  At The Next HOPE conference in NYC, NY in 2010, Towne won the Locksport Wizard contest.  He also had the now famous kickstarter project when trying to raise $6,000 to create a set of custom open lockpicks he ended up raising over $87,000.
When: December 14th, starting around 7pm
If you have a set of lockpicks you will need to bring them.  There will be some to share.  We will not have any lockpicks available for sale either.