Hive13 Lock Forensic Logo Contest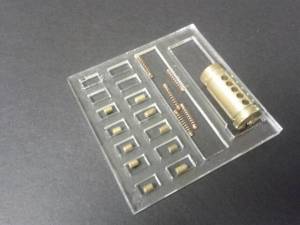 At the last Hive13 Lock Forensic Meetup (Aug 11th) we practiced and experimented with different techniques using bump keys as well as built our own custom pinning tray.  We have a LAB pinning mat but we feel that most of the space on that mat is wasted and unnecessary.  So we set out to make a cool plexiglass version that would be portable and get the job done equally as well.  The image on the right is the first pining tray off the laser cutter.  It is two sheets of plexiglass fused together (top and bottom) so the tray can be moved around.  We really liked the way it came out and decided we would give these out at the next Lock Forensic class we host (date to be determined still).  We also thought it would be great to put a logo on he backside of the bottom layer of plexiglass.  Then we realized we don't have a logo!
Being that the Hive13 Lock Forensic group is the first public lock forensic group in the country (maybe the world) we feel it is important that we have a logo.  And for the sake of setting an arbitrary deadline, the contest will end next Friday (Aug 19th).  The rules for the logo are simple.  We are looking for a black and white logo.  One that could easily be a vinyl sticker or etched into plexiglass or other tools.  The entries will be passed around the regular members of the lock forensics group and the winner will get a free pinning tray with their logo on it.
Meeting info: http://wiki.hive13.org/Lockpick
Contest submission email here: craig at hive13