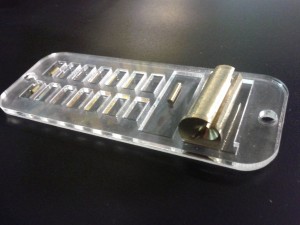 Hot off the presses!  Er, well, laser cutter!  We bring you the new pinning tray.  This tray is more portable than before.  The other one was small but the square shape often made it hard to fit into some carrying cases with your other tools.  This new design by Brian keeps the tray small but adds length to better go with the tools you normally carry.
And that's not all!  With this new design you can use the holes on the side and a lid to secure your pins for further storage.  By placing a lid on top and using some small screws you can fasten the lid down and store the pins for later use.  This is ideal if you are working on a progressive lock and need a place to store your the extra pins until you work your way up.  It can also be used to keep some extra security pins grouped together or  potentially for storing the pins from control locks used in lock forensics.
We are still testing out the design but once we finalize it we will have some available if anybody wants one.