Fiber Friday
A 3-post collection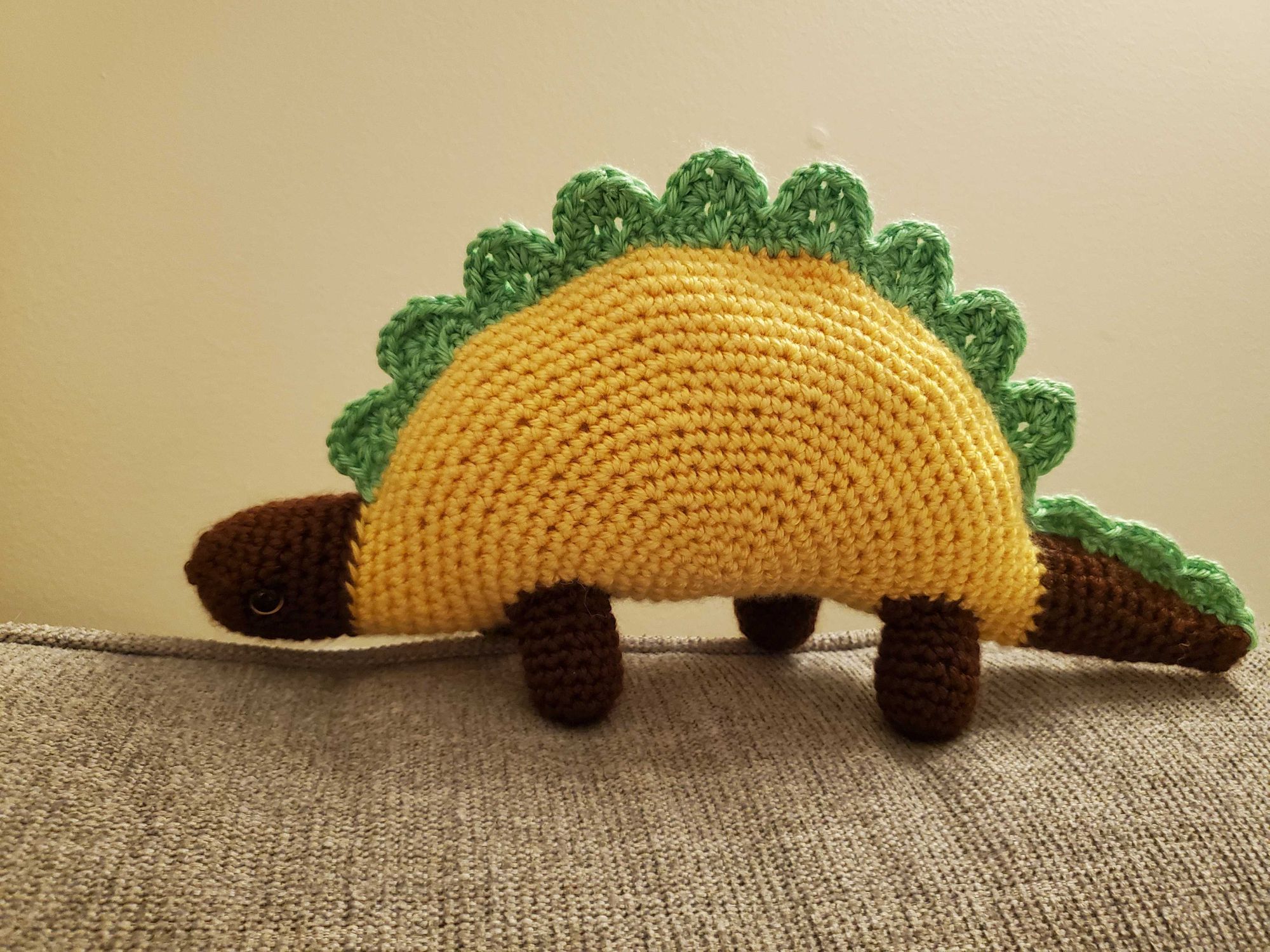 Greetings Hivemind! Konstantinos here to bring a Fiber Friday post from Lisa.
Pattern: Horace the Stegosaurus by Irene Strang
Inspiration: u/PeterCarpet on Reddit
Crocheted by: Lisa Crump
One day, when I was scrolling through posts on Reddit, I saw the most awesome taco dinosaur and new I had to make it for my favorite 5-year-old for Christmas. I was happy to find the name of the pattern and designer in the comments. After purchasing the pattern, I had a fun time creating this adorable creature. Pretty easy pattern for the most part but use stitch markers to help with counting on the body section and look at the stitch diagram for the spikes and where they should sit. The only other thing I had was my own fault. By changing the body to a single color where the pattern calls for some lovely rainbow stripes, made me double take when I had to put the legs on as the pattern calls for two different colors and to put one of each on that stripe in the front and back. After looking at the pattern and more pictures, I realized that it just meant to have one leg slightly in front of the other so you can see all four from the side. I can't wait to see how much joy this brings when the present is opened.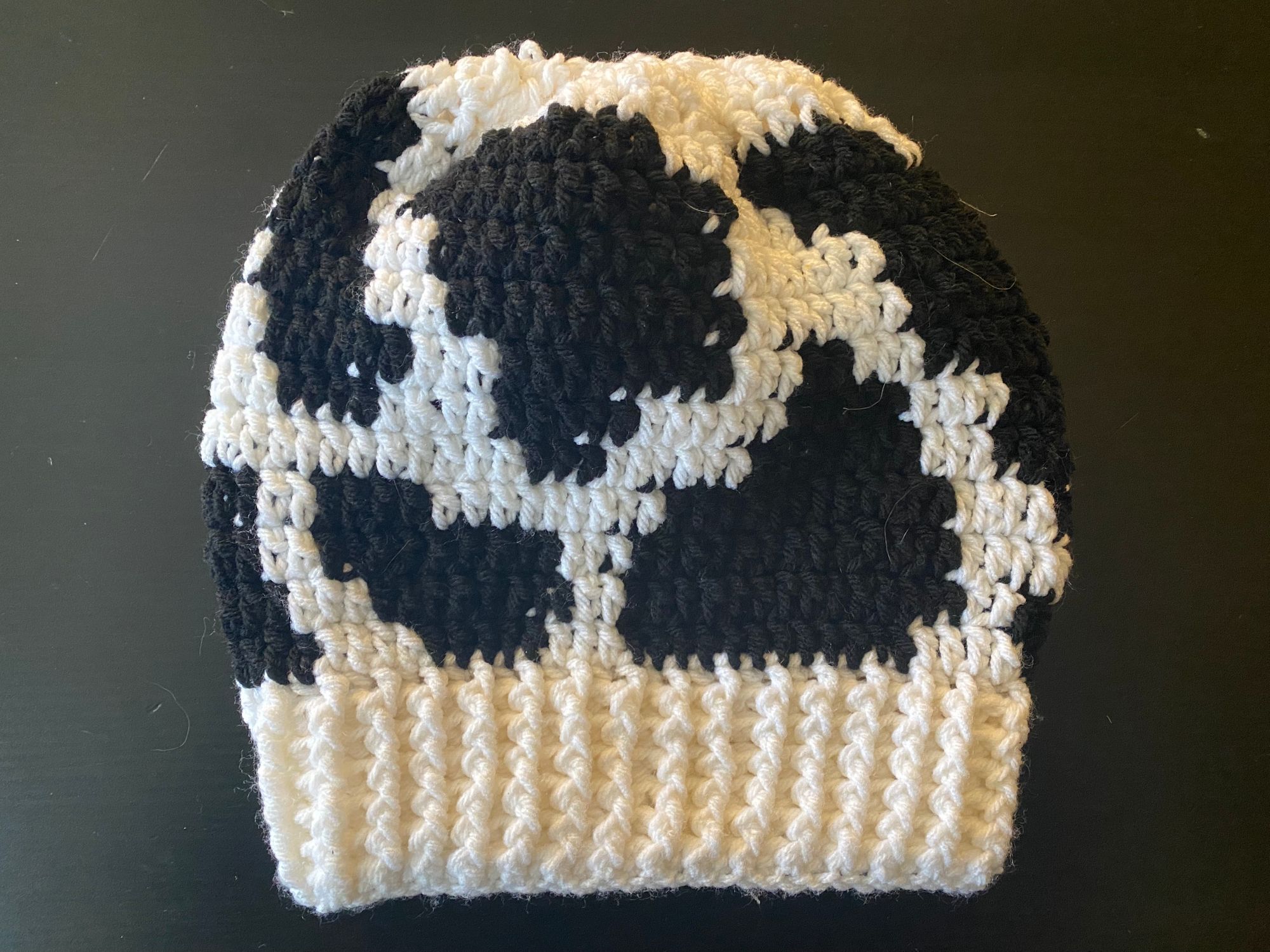 Hey Hivemind, Konstantinos (they/them) here. Pardon my delay, I was searching for how to go about this Fiber Friday because I must confess to you, I made a mistake. Before I tell you about my grave error, let me give you some background on this pattern.
I crocheted the Cow Print Beanie which I bought from Tzings on Etsy. A special thank you to Tessa Herra who designed the pattern. The pattern was easy to read and only required a crochet hook, two colors of yarn, a stitch marker (my trusty bobbypin), and a dream. So I dared to dream.
A general tip for all beginner fiber artists, read the pattern before you start making it. This will help you prevent missing important things like foundational rows. And missing like 10 stitches. And messing up the entire pattern. It was fixable but it didn't have the exact beanie shape that I was looking for.
In all, it was a very easy to read pattern, I'm just a dingus and should have read the pattern better prior to starting it. I will be doing a 2.0 version where I actually follow the pattern. My mistake was in no part a fault of the pattern, but definitely a fault of my eagerness to complete said pattern during a stressful few weeks.
Have you ever royally screwed up a pattern? Let us know! This is a safe space for fiber shenanigans.
Fiber Friday: Cool Tree Wall-Hanging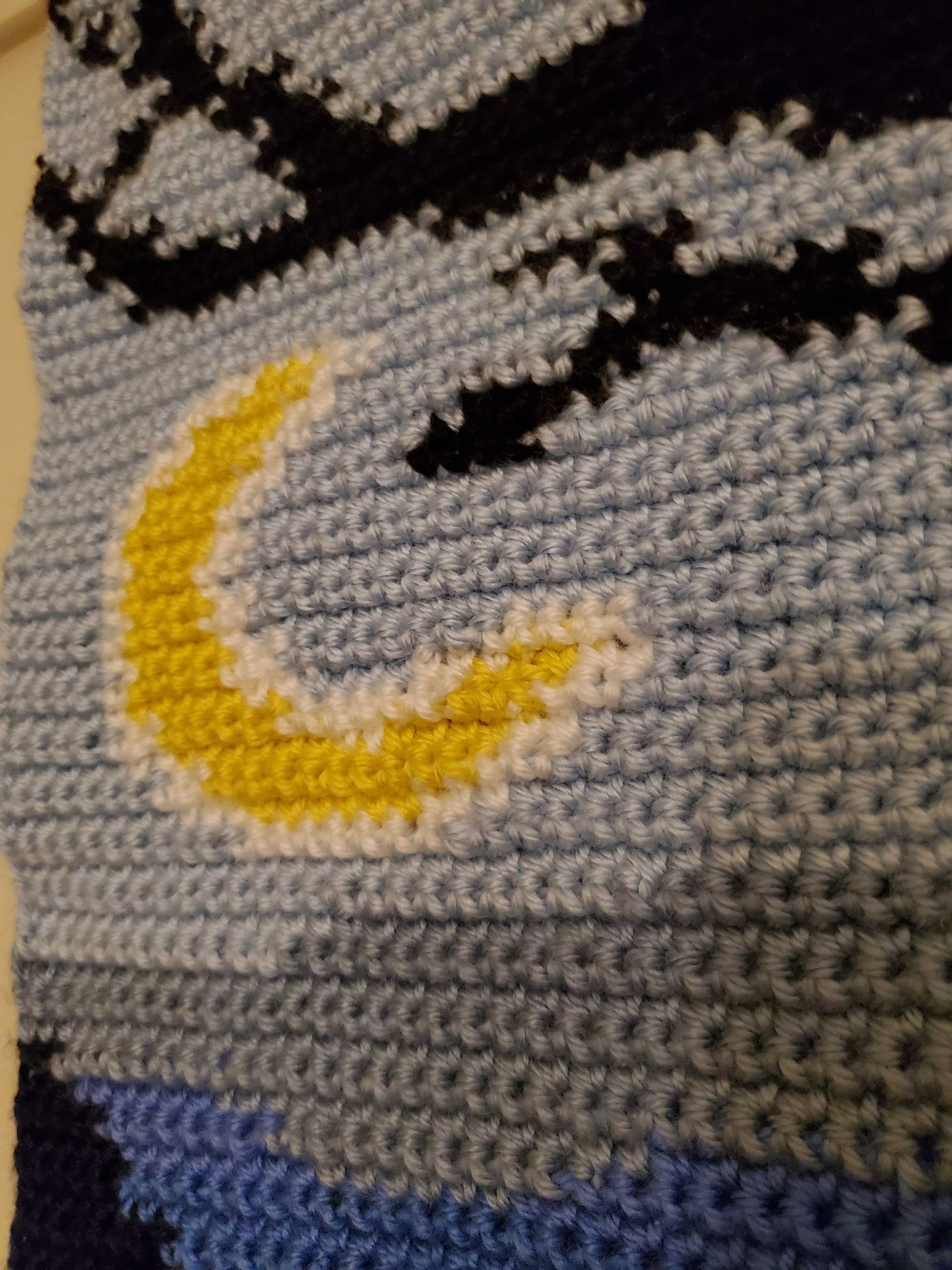 Greetings Hivemind! Konstantinos (they/them) here to share a Fiber Fridays review! This week, Lisa Crump (she/her) stitched a tapestry from Amber of Divine Debris called Cool Tree Wall-Hanging. Here is her writeup of the experience of making said tapestry.
This is a beautiful pattern written by Amber of Divine Debris and can be found as a grid for free on her blog or you can pay for the full pattern on Ravelry. I used the grid version which I copied into Inkscape to increase the size and mark which rows I had completed. Definitely a forgiving pattern, I may have miscounted at some point so a couple of my branches are thicker than originally designed.
This was my first time making a tapestry; it doesn't use tapestry crochet techniques but uses multiple balls, one per section of the same color. Having a definitive front and back took some getting used to for someone who is used to reversible pieces and I had to remember to always bring the working end to the backside of the piece when changing colors.  As the tapestry is worked using only single crochet, one of the simplest of stitches, the complexity is in keeping track of the pattern and attempting to keep the multiple balls untangled. I had a lot of fun making this piece and while I did not finish by my original deadline of Halloween, I am excited to display this in my home when it becomes spooky season once more.