Tuesday Talks
A 10-post collection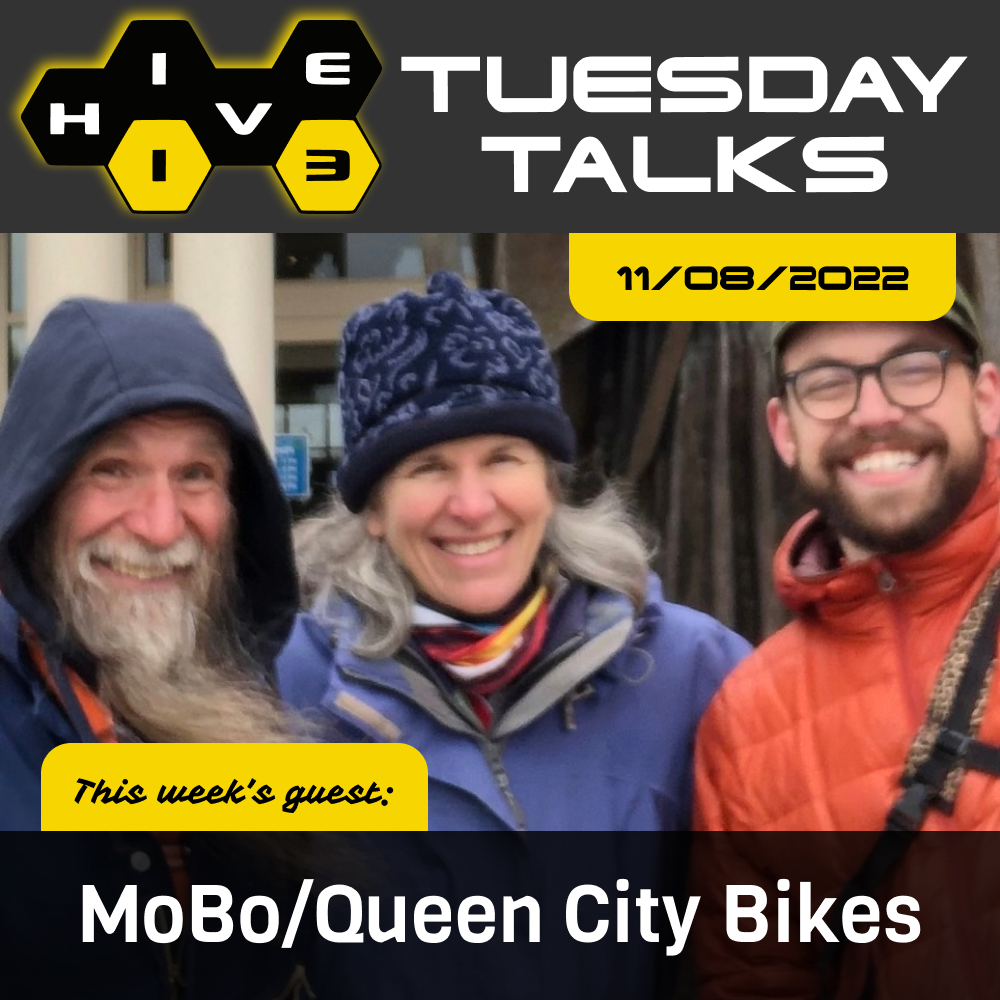 Greetings Hivemind! Our Tuesday talk this month is from the lovely folks at Queen City Bikes and MoBo Bicycle Co-op! Here's some more info about our guests.
Join us for "All the Buzz about Bike Repairs" to learn about essential roadside repairs and the mechanical principles behind them!
Our presenters are Fraser Cunningham of MoBo Bicycle Co-op, Kathy Cunningham of Queen City Bike, and Vincent Wilson, who donates his knowledge and time to both organizations.
All three are frequent volunteers at the "Pop-up Bike Shop" series—free bike repairs that MoBo and QCB host all over the city (along with support from Tri-State Trails and Cincy RedBike). All three have been riding and tinkering with bikes since their youth, and share a common goal of empowering more people to ride and enjoy the freedom and low-cost/low-impact mobility that bikes make possible!
Fraser is a retired mechanical engineer from GE Aviation, with a passion for understanding how things work—and how to make them better! Kathy is a retired bioscientist and consultant who also applied her knowledge to endurance athlete coaching for several years. And Vincent is a software engineer who deeply values self-education and versatility, with a knack for dreaming up playful inventions and hacks in his workshop.
Check out Queen City Bikes:
Check out MoBo Bike Co-op: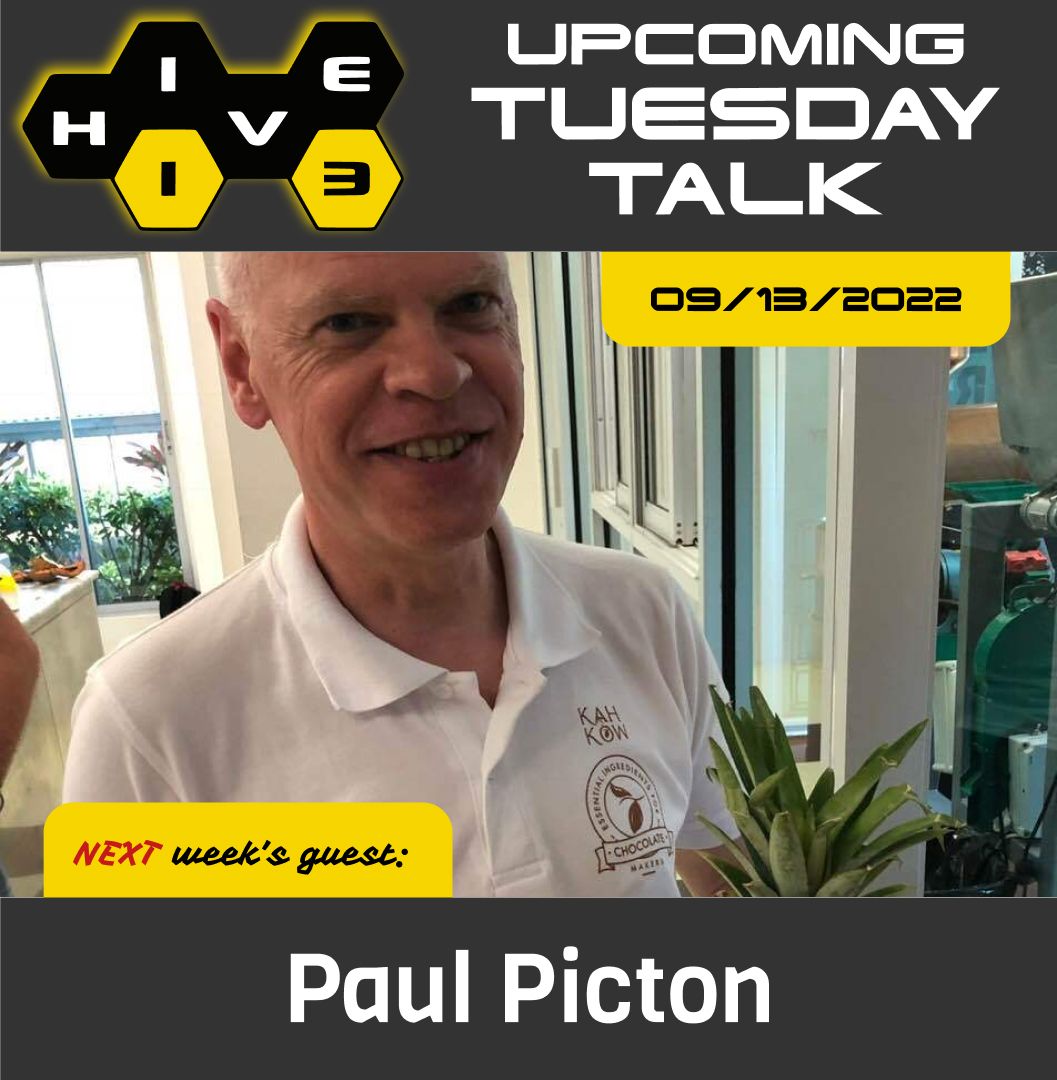 This month we have a sweet pretty sweet Tuesday Talk speaker! Paul Picton is a Hive13 member and an expert chocolate maker. His talk this month will be about how to make chocolate on a small scale so make sure to come hungry!
More about Paul:
Paul Picton is a mechanical engineer who changed careers in 2013 to become a chocolate maker.  Along with his wife, Marlene, and their son, Ben, they own and operate the Maverick Chocolate Co. in Cincinnati, Ohio. Maverick Chocolate has two stores: the original in Findlay Market – opened in 2014 and the flagship store in Rookwood Commons – opened in 2018. Their chocolate has received numerous national and international awards including six Good Food Awards. Maverick Chocolate employs 12 people.
Paul previously was the Sales Director for MTU Aero Engines – a division of Mercedes Benz. Paul spent seven years at Delta Airlines and three years in GE Aircraft Engines
Paul mentors numerous food-based entrepreneurs in Cincinnati. He is active in his neighborhood community of Newport, Kentucky. Paul is originally from Canada and immigrated to the USA in 1996.
Check out Maverick Chocolate at their Findlay Market location and Rookwood locations.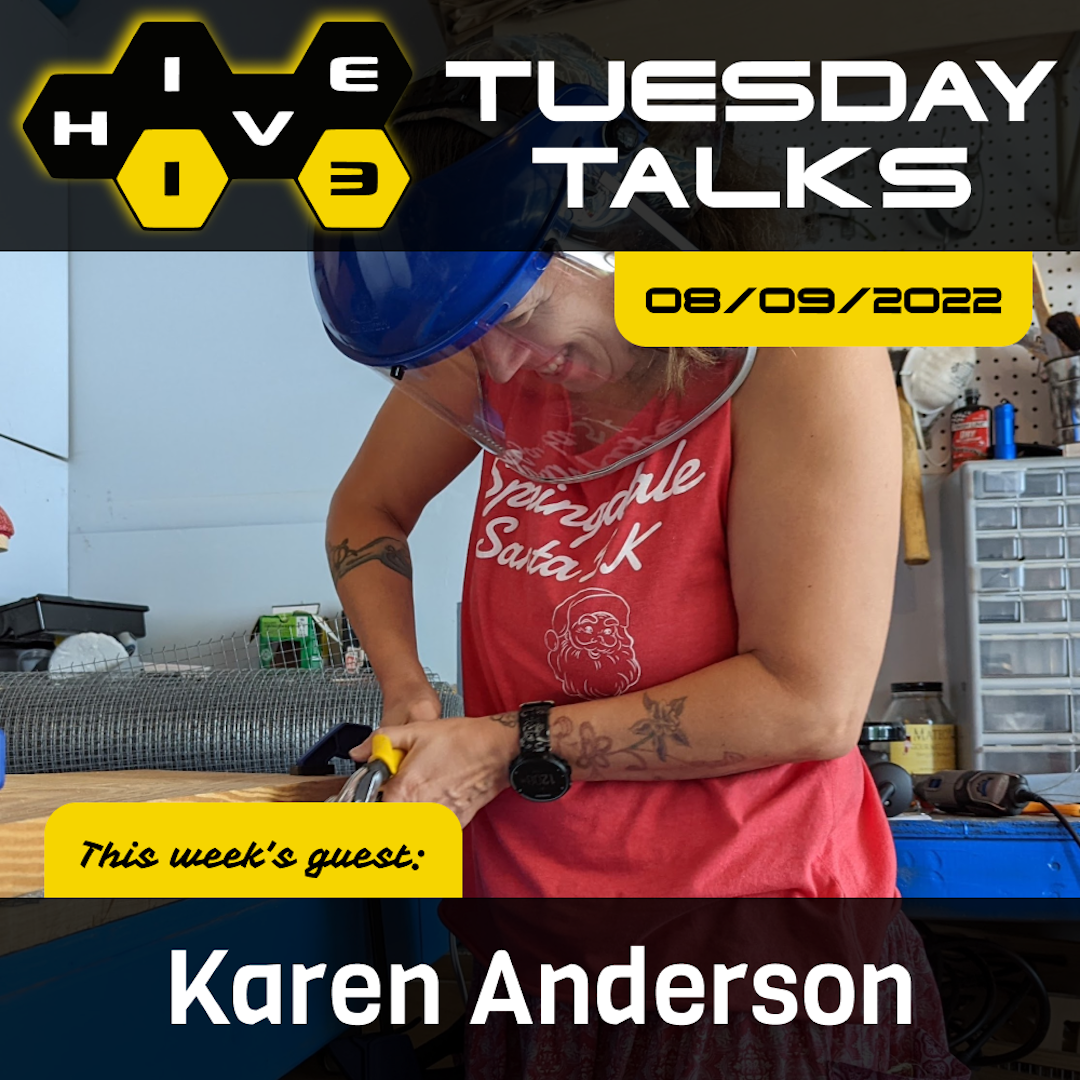 Greetings, Hivemind! Our Tuesday Talk this month will be Karen Anderson. Not only is she involved with Hive13, she's a Weavers Guild member and Bombshell! Learn more about her below:
Karen Anderson loves making things! Especially yarny things. She has been a member of the Weavers Guild of Greater Cincinnati since 2004 where she knits, embroiders, dyes, spins, weaves, crochets, braids, and lucets. She is a new member of the Bombshells of Cincinnati and the current lead for Cincinnati Nature Center's Earth Expression art installation. Back in 1999, she graduated from the Theatre School at DePaul University with a BFA in Lighting Design and loved working in the scene shop. More recently she enjoyed a 10 week Intro to Blacksmithing and Steel Fabrication at Blue Hell Studio and is VERY excited to play with metal.

On her upcoming project: The Bombshells of Cincinnati is an art collective that yarn bombs throughout Cincinnati. I'm a very new member of this awesome group of artists and this will be the third project I've worked on. This is the second year that the Cincinnati Nature Center has a grants supported project through ArtsWave. The Bombshells were made aware of this opportunity, I designed the installation, collaborated with a few other Bombshells for some editing of the vision, applied, interviewed and we were selected. We've been holding work sessions at the Weavers Guild, which has a room large enough to work on 2 of our arches at once, there will be a couple of work sessions at my house in Springdale to pull everything together, and we will install in mid to late August. There will be two program-related opportunities once we have installed. One to teach weaving and simple macrame to guests at the Nature Center so they may add their art to the installation. And another one to do a community indigo dye vat.
And YOU can be involved with the installation! Stay tuned for an installation date but Karen also needs butterflies, flowers & leaves knit or crocheted in cotton for the installation and maintenance. Curious about the Bombshells? Ask Karen to find out more!
Follow The Bombshells of Cincinnati on Instagram
Check out the Cincinnati Nature Center on Instagram and their website
Follow the Weavers Guild on Instagram and their website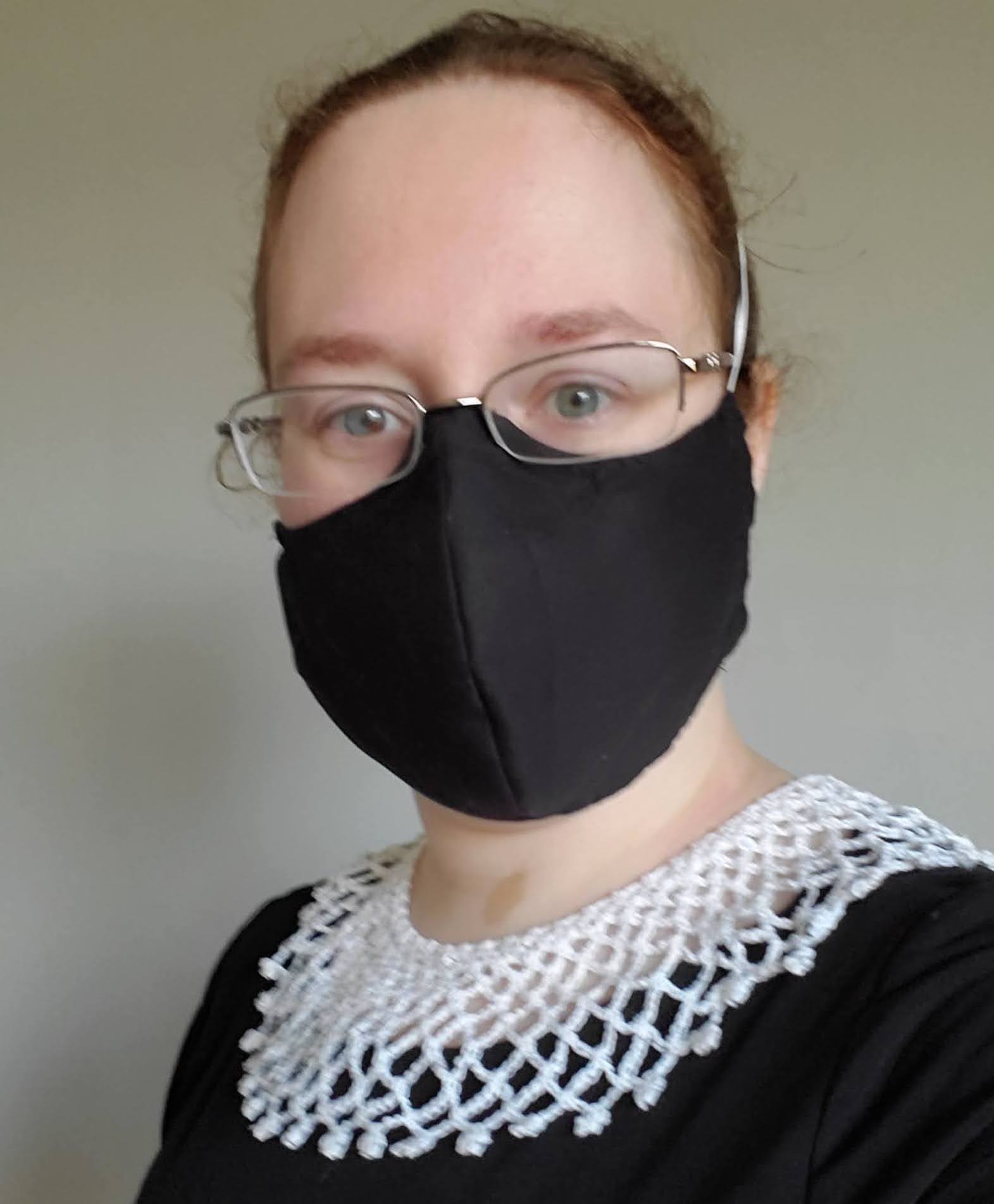 Greetings Hivemind!
Our Tuesday Talk this month is from none other than our very own Lisa C.! This Tuesday she will be talking about her love for crochet and how it makes her loopy.
Lisa, a Hive member and the crafts and sewing warden, has been crocheting since the early 2000's. She enjoys creating cute and fun projects for herself and to give as gifts.
Find Lisa on Instagram and on the Hive13 Slack.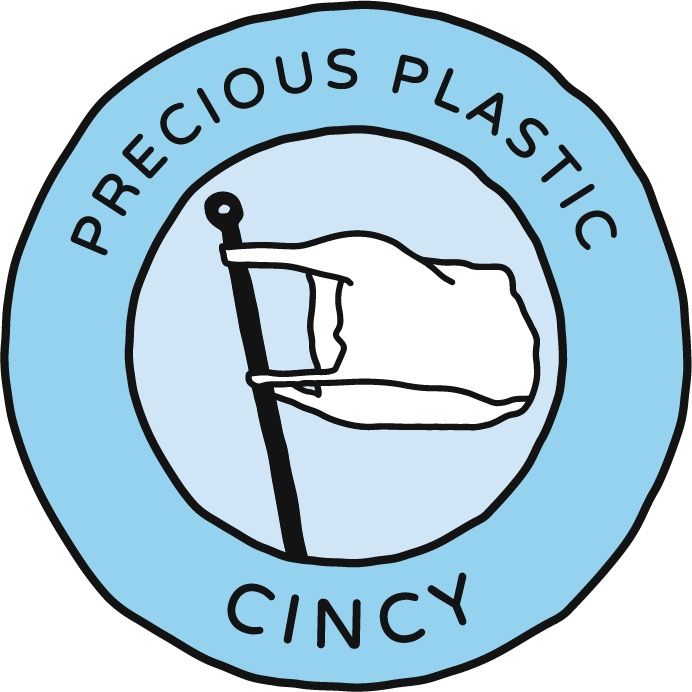 Greetings Hivemind! Our Tuesday talk speaker will not only be one of our neighbors, but a member herself. Cyrina Thomas of Precious Plastic Cincy will be joining us to talk about plastic waste and how we can effectively recycle to create art and industrial products. The mission of Precious Plastics Cincy is to create art that makes people rethink waste. Most people don't know that very few plastics are actually recyclable so most recycling ends up in the landfill. Join us this Tuesday after our weekly meeting to learn more!
Can't make it? Check out their website, Instagram, Facebook page, and LinkedIn.