fiber arts
A 1-post collection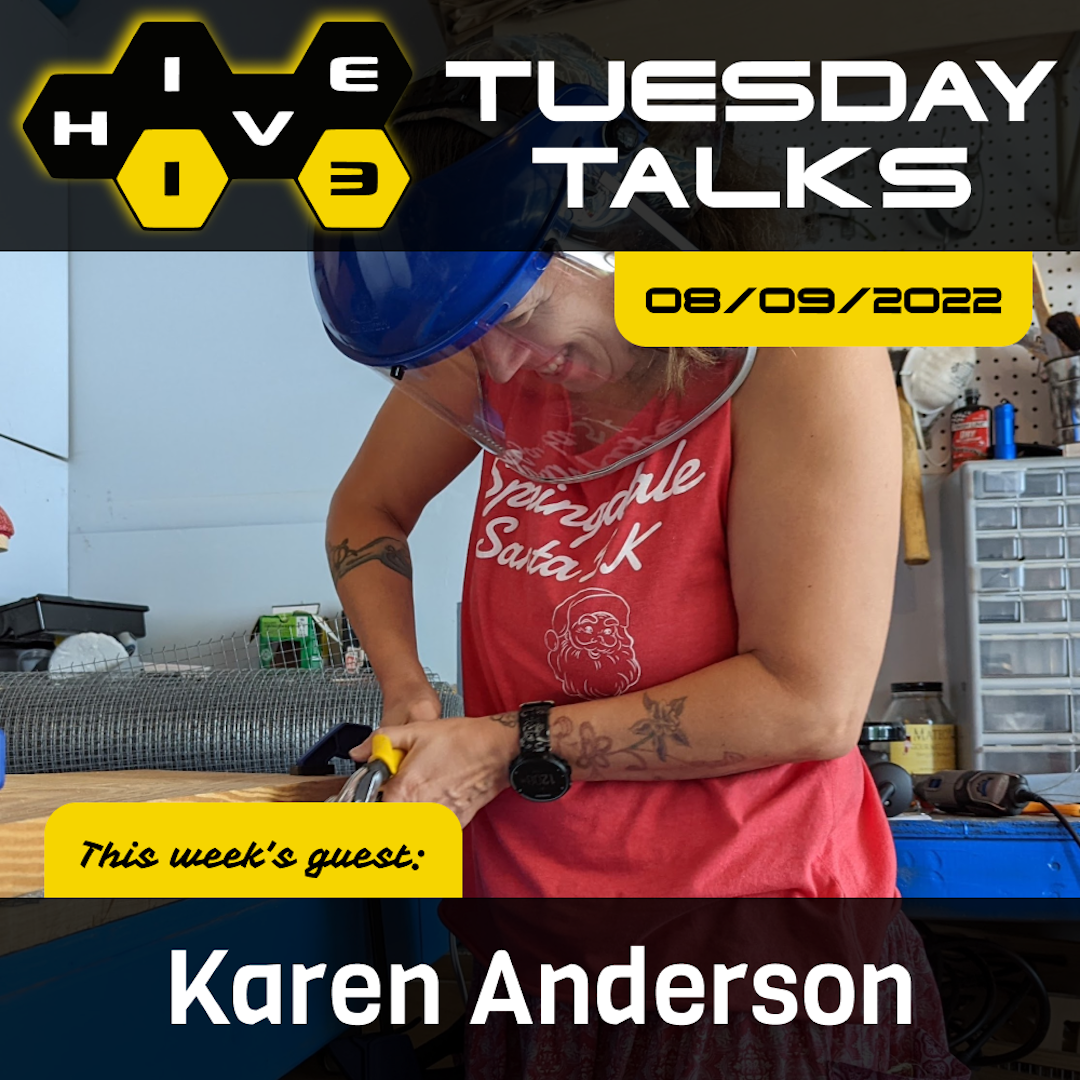 Greetings, Hivemind! Our Tuesday Talk this month will be Karen Anderson. Not only is she involved with Hive13, she's a Weavers Guild member and Bombshell! Learn more about her below:
Karen Anderson loves making things! Especially yarny things. She has been a member of the Weavers Guild of Greater Cincinnati since 2004 where she knits, embroiders, dyes, spins, weaves, crochets, braids, and lucets. She is a new member of the Bombshells of Cincinnati and the current lead for Cincinnati Nature Center's Earth Expression art installation. Back in 1999, she graduated from the Theatre School at DePaul University with a BFA in Lighting Design and loved working in the scene shop. More recently she enjoyed a 10 week Intro to Blacksmithing and Steel Fabrication at Blue Hell Studio and is VERY excited to play with metal.

On her upcoming project: The Bombshells of Cincinnati is an art collective that yarn bombs throughout Cincinnati. I'm a very new member of this awesome group of artists and this will be the third project I've worked on. This is the second year that the Cincinnati Nature Center has a grants supported project through ArtsWave. The Bombshells were made aware of this opportunity, I designed the installation, collaborated with a few other Bombshells for some editing of the vision, applied, interviewed and we were selected. We've been holding work sessions at the Weavers Guild, which has a room large enough to work on 2 of our arches at once, there will be a couple of work sessions at my house in Springdale to pull everything together, and we will install in mid to late August. There will be two program-related opportunities once we have installed. One to teach weaving and simple macrame to guests at the Nature Center so they may add their art to the installation. And another one to do a community indigo dye vat.
And YOU can be involved with the installation! Stay tuned for an installation date but Karen also needs butterflies, flowers & leaves knit or crocheted in cotton for the installation and maintenance. Curious about the Bombshells? Ask Karen to find out more!
Follow The Bombshells of Cincinnati on Instagram
Check out the Cincinnati Nature Center on Instagram and their website
Follow the Weavers Guild on Instagram and their website