Tuesday Sept. 8, 2015, 7:30 pm – Little Cool Hand Luke and Dad Gregg Dennison preach about e-NABLE to the choir at Hive13!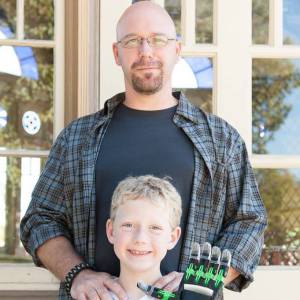 You've seen them on page one of the Cincinnati Enquirer (8/21/2015 edition), multiple TV shows, and most recently at the Cincinnati Mini-Maker Faire. Join us at the Hive on Tuesday, September 8 at 7:30pm when international viral video media celebrity Little Cool Hand Luke and his Dad Gregg Dennison from nearby Falmouth, KY visit us on a school night to be our featured guest speakers and share their experiences with e-NABLE; a global network of passionate volunteers using 3-D printing to give the world a "Helping Hand".
Want to get inspired to take your hobby to the next level and join a global movement that has a REAL impact in this world? You won't want to miss this talk.
Members, guests, first-time-walk-ins, and all those interested are welcome at Hive13 this Tuesday, September 8, at 7:30pm. (Find Us)