Tuesday, March 17, 2015, 7:30 pm – Introduction to the Shapeoko CNC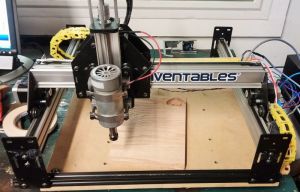 Folks may remember the blog post from back in June (here); Hive13 was the only hackerspace in Ohio to win a free Shapeoko2 CNC machine kit in the Inventables 50 States 3D Carving Machine Giveaway contest.
Well, it didn't really take this long; but the kit is assembled, customized, debugged, and ready for use, thanks to the lead efforts of member Julien Morand and several assistants along the way.
AFTER the Hive13 meeting this Tuesday, March 17, Julien will present an introduction to this working machine. The introduction will be in two parts. The first part will present the specifications of the machine, its different usages, and the steps required to get a proper milled part. The second part will demo the CAD to CAM workflow using a given shape (the hive logo) and then cutting the part on the machine. Interested folks should follow this (link).
Julien has offered to follow-up and supervise one or more TBD Saturday workshop(s) in upcoming months for those wanting to create and cut their own similar shapes.
Members, guests, first-time-walk-ins, and all those interested in hearing Julien's cool French accent are welcome to come for this introduction on Tuesday, March 17, at 7:30pm. (Find Us)