Tuesday, August 11, 2015, 7:30 pm – An 'Old-Hand' Maker's Memories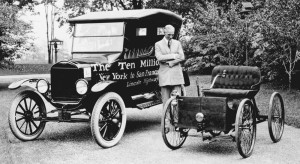 Do you think the "Maker Movement" is something new? Well, think again. This photo shows Henry Ford contemplating his first 1896 Quadricycle. By the 1920's Henry had made his 10 millionth Model T, a.k.a. Tin Lizzy, shown behind him, and we now have the world-wide auto industry of today.
Contemplating growing your own maker hobby into something larger like Henry did?
Join us this Tuesday, August 11, after the 7:30pm business meeting, when not-quite-so-old 'Old-Hand' Clarence Stogner (father of member Will) takes us for a ride down his own memory lane.
Clarence's story started in the US Navy working on manual-control piston-engine T28 aircraft and A6E jet aircraft with advanced hydraulic systems. Combining his early machining background with a mechanical engineering degree, he has worked on designing and improving valve/actuators and related controls for the past 39 years. He was a principal owner in two businesses that spanned 18 of those years. Presently at A-T Controls here in Cincinnati, he leads a product development team that adapts valve/actuator hydraulic products from Asia for the special demands of oil well field operations.
Members, guests, first-time-walk-ins, and all those interested are welcome to come for this interesting talk on Tuesday, August 11, after the 7:30pm business meeting. (Find Us)