bitcoin
A 2-post collection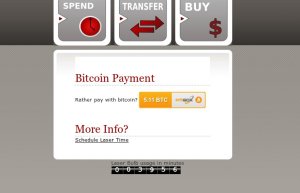 Do to yet another members recent issue with paypal we have enabled bitcoin payments.  Now once you login to lazer.hive13.org you have an option to pay through Mt. Gox with bitcoin.  This works similar to the paypal button but the prices are dynamically set to equal the $30/hr charge we use for paypal.  After a payment it may take a while for the laser minutes to show up, at least until we can have the callbacks fully tested.
With paypal locking accounts and Dwolla's new crazy terms of service, we would love to offer bitcoin for membership subscriptions as well but unfortunately I don't believe there is any good way to do this without paying an escrow upfront.  Until then we will use the laser site as our first official testbed.

We are starting to experiment more with Bitcoin at the space.  Bitcoin is a peer-to-peer digital currency system.  The first step for us is to setup a public local bitcoin exchange.  The purpose of a local exchange is to enable people to trade cash for bitcoins.  During the Tuesday meetings you can find somebody who has bitcoins and make an offer.  The idea for a local exchange is you can visible see the existence of the sellers bitcoins and there are no minimum amounts required to purchase/transaction fees.  For an idea of the estimated price per bitcoin check the going rate at Mt. Gox.
Depending on the popularity of bitcoins, you can expect to trade for services and things at the Hive.