Introduction to Welding Class (July 18th)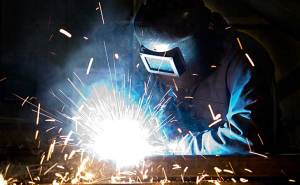 Have you always wanted to learn how to weld? Kirk Wallace will be hosting an Introduction to Welding class at Hive13 this coming Saturday (July 18th, 2015). Absolutely no experience is necessary to attend this class on MIG welding.
This will be a very introductory class with the first half covering the theory of MIG welding, briefly touching on TIG and stick welding. After a short intermission, the second half of the class will be practical hands on learning, where you will get the opportunity MIG welding steel together with individual instruction from Kirk. If there is some extra time and people are feeling adventurous, you may get to quickly try out TIG welding as well.
The class will take place from 9:45am until 1pm. There will be a brief intermission between the theory and application from 11:00am-11:15am. Attendees are welcome to bring a lunch to eat while others are practicing welding.
Tickets are $40/person and will include all materials and tools to be used in the class. Class size is limited to six people. Purchase the tickets and read the FAQ at https://www.eventbrite.com/e/introduction-to-welding-hive13-tickets-17756000676